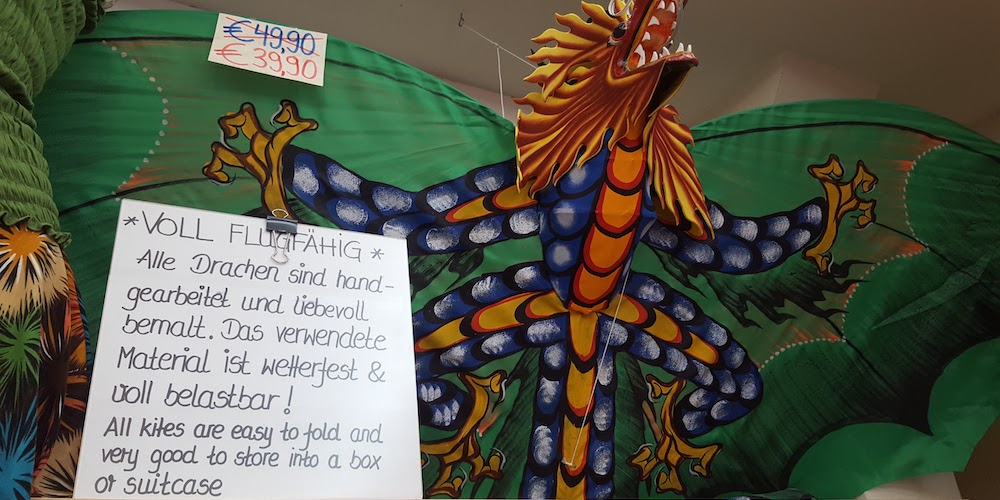 What is transcreation? The right message for the right audience
Instead of translation, find out how transcreation helps marketing texts hit the right tone for the right audience.
By James G. Peterson, Copywriter & Translator at steelecht
The above photograph illustrates the whole point of transcreation – to adapt a text so it speaks effectively to a new target audience. If the German text had simply been translated, international tourists would not get the information most relevant to them.
My daughter slept in her stroller as my wife was trying on new dresses at Good Kharma, a bohemian boutique in Heidelberg, Germany. Suddenly, my eye was caught by colorful, hand-painted kites, decorated to look like dragons and poised like gargoyles above the clothing racks in the store.
After admiring them for a while, I noticed a small sign which I immediately recognized as one of the best examples of transcreation I have ever seen.
Besides some subtle word play*, what really struck me was how effectively the sign speaks to the main painpoints of each target group (even if the English is not perfect).
Target group
Painpoints
What the sign answers
German shoppers

1. Sure it's pretty, but does it actually fly?
1. *FULLY CAPABLE OF FLIGHT*
2. Is it an assembly line product?
2. All kites are hand-crafted and lovingly painted.
3. Will it survive more than one use?
3. The material used is waterproof and very sturdy!

(1-to-1 translation)

Tourists/English speakers

1. Nice, but will it fit in my suitcase?
1. All kites are easy to fold and very good to store into a box or suitcase
The beauty of the messaging on this sign is that it comes across so naturally. The shop owner simply knew the target groups, and therefore knew how to address them effectively (despite small grammatical mistakes).
So what can companies learn from this?
Companies that need multilingual communication will not get such effective results by simply sending an agency documents for translation. It is essential to provide a good briefing along with the text. After all, the English text on this sign is based on insider knowledge that is not even contained in the German text.
Sometimes transcreations are more faithful to the original, of course, but every now and then a text has to be completely re-written. It depends on the target audience's needs and your communication goals.
Here are a few key points:
Straight-up translation is often not effective, and marketing is one area where this is frequently the case.
For transcreations, you need to provide a briefing. You can't truly transcreate a text based on the source text alone. Try to provide all the information that would be needed to re-create the text from scratch, including target group painpoints and your main communication goals.
Work with copywriters. Rather than working with a normal translator, take the time to find a copywriter who is fluent in the source language and a native speaker of the target language. Often, this is someone who may have some experience in translation, but is mostly specialized in copywriting and/or journalism.
Never forget context. Think of how ineffective a "normal" translation would have been in the picture above. For your text, consider where it's going to appear and how the target group will interact with the text. Either provide this information in your briefing or, for high-level campaigns, ask an agency to develop a customer journey.
Smartling also provides some great information on transcreation.
No hard rules
Some companies who specialize in transcreation are very passionate at drawing lines and marking territory, distancing themselves from translation agencies. The reality, however, is that transcreation is just a big grey area between writing and translating.
Speaking for my company, steelecht in Offenbach, the majority of our customers generally come to us for English copywriting based on a briefing. A good proportion of our customers, on the other hand, come to us only for transcreation or something between that and "normal" translation.
Transcreation is nothing new
Whatever name you prefer (transcreation, localization, internationalization, freestyle translation, etc.), steelecht and agencies like us have actually been doing this kind of work for years. Our success is built on the collaboration of competent copywriters and translators, so it comes naturally to offer everything in between.
It has always been our practice to brief translators. Although we trust the stylistic instincts of our writers and that they won't be too imaginative in their interpretation of a text, we understand the pitfalls of translation and how good briefings make great transcreations possible. We also implement a stringing four to six-eye review process involving creative and final editors.
Want to learn more about transcreation or get a quote? Contact steelecht.
*Interesting note: The German word for "kite" is "Drachen", which also means "dragon", so a dragon-kite has a special appeal for Germans.  Unfortunately, this play on words doesn't translate, but the idea did "transcreate" into a new product. Good Kharma in Heidleberg also offers kites that look like the birds of prey commonly referred to in English as "kites".