Transcreation is usually defined as "creative translation". It is the translated adaptation of your content using contextual creative writing, editing and localization.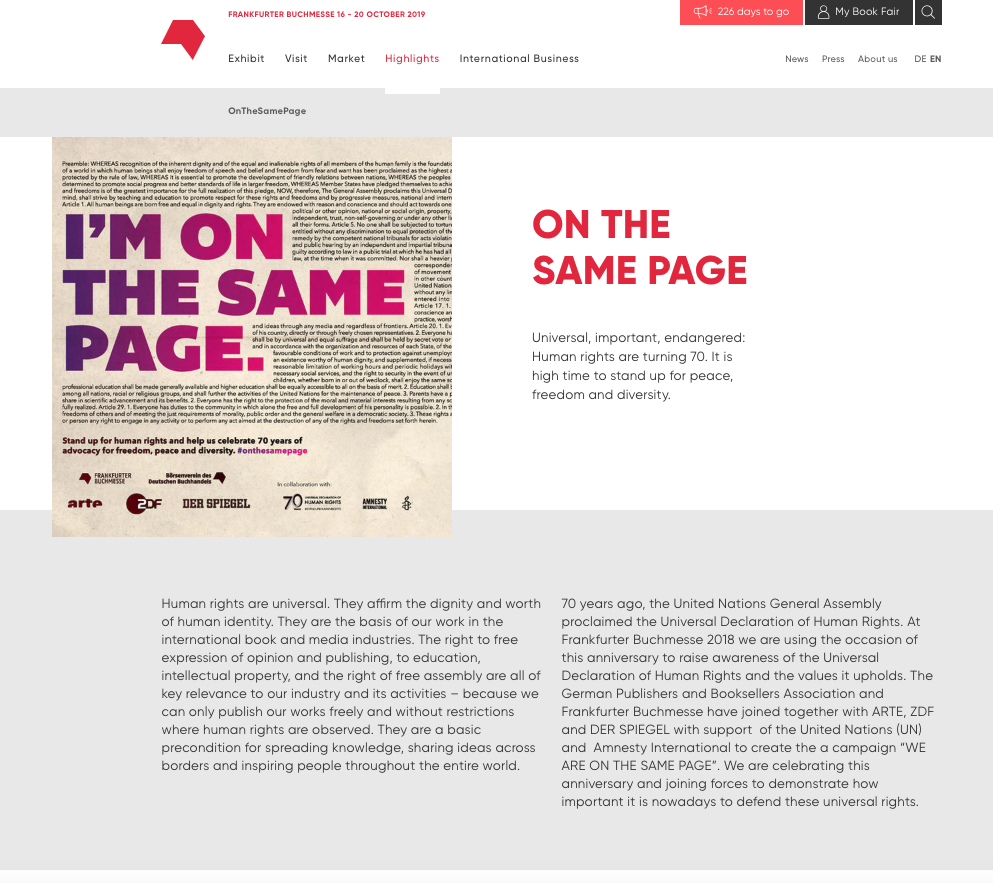 SUPPORTING THE RIGHT TO USE OUR WORDS
For our client Frankfurt Book Fair, we took special care in transcreating the words for this campaign, because they bore so much meaning and importance. In a call to support and defend every person's right to expression, the Frankfurt Book Fair took out an ad "On the same page" commemorating the 70th anniversary of the Universal Declaration of Human Rights. We made sure the transcreation of their campaign had the same impact as the sentiment behind it. Words matter!
With transcreation, your message is localized in order to trigger the outcome you desire. To achieve this, a writer-translator must fully understand the intentions of your marketing texts. That's why each transcreation brief not only includes the original text but also an analysis of the text's deeper meaning and your communication objectives, as well as the target group's mindset. Our team of experienced writers here in Germany specializes in German to English and English to German transcreation.
Let our team of experienced writers show you how transcreation can work wonders for your marketing texts in English or German. Contact a steelecht writer-translator about your project right now.
Transcreation to polish your global message
Whether you call it transcreation, creative translation or adaptation, it is a linguistic skill that requires a writer-translator, i.e. someone who is a talented writer and also has an exceptional understanding of all the subtleties of not merely one, but two languages. At steelecht, all of the members of our creative staff are at home in the language and culture of multiple global markets.
Transcreation goes beyond a mere word-for-word reproduction of your text into multiple languages to ensure that your message is clearly suited to the context and expressed and structured according to the linguistic rules of style that govern successful communication in the translated language.
At steelecht, we are specialized in German to English and English to German transcreation. Whatever the language, our clients often say that our transcreation is better than the original!
We approach transcreation as teamwork. We believe there should always be a direct line of communication between you – our client – and our writer-translator or final editor. In our blog article about how to get better work from your translators, we outline many of the best practices that help us deliver high-quality "second originals" or adaptations of your marketing texts.
Need German to English or English to German transcreation? Our native speakers are both good translators and skilled writers. Talk to a writer-translator now about your project!
Georgia – Made by Characters
Georgia was the 2018 Guest of Honour of Frankfurter Buchmesse (Frankfurt Book Fair). On behalf of projekt 2508
, a Bonn-based press agency, steelecht translated large portions of the Guest of Honour

'

s press kit. The project included transcreations from German into English, as well as from English into German. See the press kit in German and English.