Copyediting & Proofreading
Customers often ask us to proofread texts. That means our German or English copyeditors look over what someone else has written, and identify and correct errors in grammar, syntax, style or spelling. It's a fairly straightforward task, at least for anyone who has studied and correctly followed the rules for many years.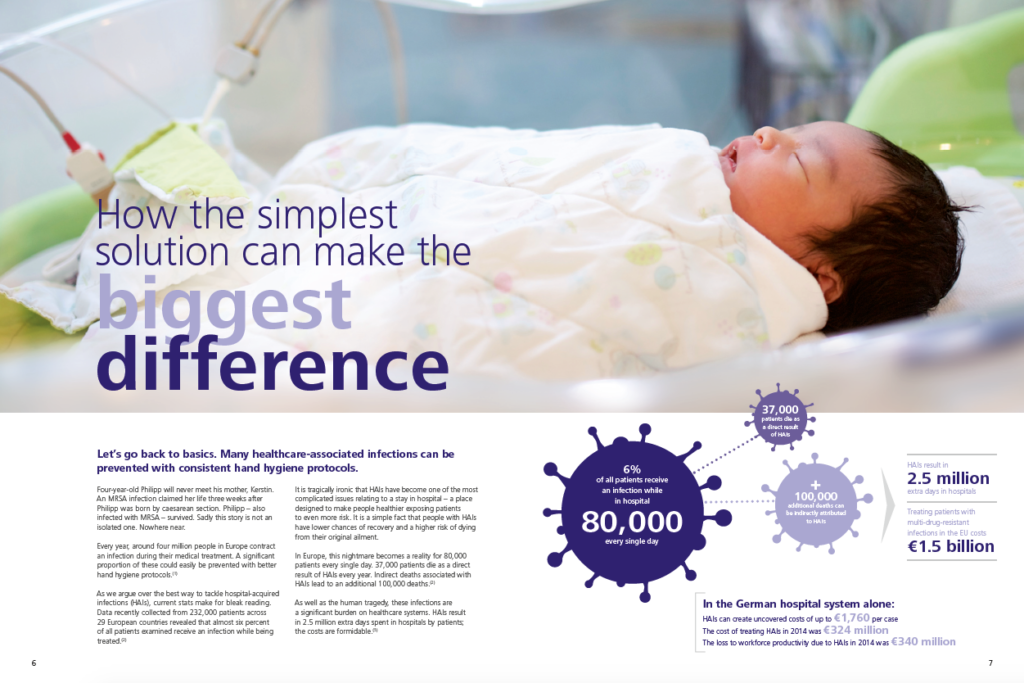 PROOFREADING FOR HARTMANN'S NEW PERSPECTIVES
With its New Perspectives magazine, Hartmann looks at the present and future of healthcare, and they know that accuracy matters. That's why Hartmann not only came to us for print design, but also for our German and English copyeditors who provided multilingual editing to ensure everyone gets the message in clear, accurate but also expressive language. Our English editing delivers the fine-tuning that ensures the New Perspectives magazine makes a highly-professional and emotional impression.
Copyediting & Proofreading
German or English copyediting or multilingual editing, on the other hand, is a broader and more complex task. While the editor is proofreading the text, they are also looking for ways to improve the language style as well as the overall structure of the text. If you need a specialist for German editing or English editing, steelecht is the place to come.
Our German and English copyeditors are ready to get started on your project. Whatever your multilingual editing needs, we work with native speakers who are also skilled writers – always.
Multilingual editing – four eyes are better than two
All of steelecht's services – copywriting, copyediting, translation & transcreation – are subjected to the "four-eyes" principle. In short – you get two for the price of one.
Copywriters – writers of any kind – often become so immersed in what they are writing that they begin to read things into their words that may not actually appear on the page. The job of German or English copyeditors is to rectify these common errors, make the text flow smoothly, and ensure that the message sent by the writer is the same message that is received by the reader. Just as good writing requires much rewriting, good German or English copyediting also requires a fresh pair of eyes to go over the (nearly) finished product.
It is important that your message is checked for flaws by German or English copyeditors before you send or publish it. Whether for proofreading or editing, our skills in German or English copyediting and multilingual editing give you the peace of mind that comes when your texts are error-free and easy to understand.
We've got it covered. Our German or English copyeditors in the Berlin and Frankfurt areas are ready to take on your multilingual editing jobs. Let us know what you need, we'll get back to you ASAP.