Copyediting & Proofreading
If you know how to spell, proofreading and editing are pretty easy, right? No – not if you want quality. Giving a text that final polish is an art all its own. Proofreading and professional editing can transform average texts into convincing arguments. Let us make that difference for you.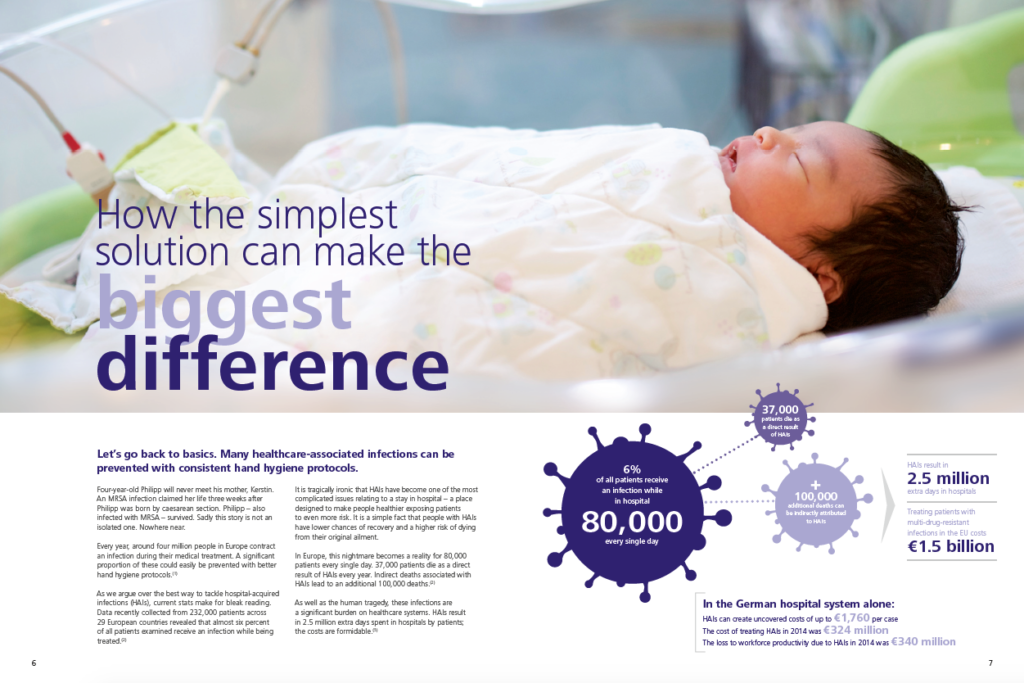 PROOFREADING FOR HARTMANN'S NEW PERSPECTIVES
With its New Perspectives magazine, Hartmann looks at the present and future of healthcare, and they know that accuracy matters. That's why Hartmann not only came to us for print design, but also for our German and English copyeditors who provided multilingual editing to ensure everyone gets the message in clear, accurate but also expressive language. Our English editing delivers the fine-tuning that ensures the New Perspectives magazine makes a highly-professional and emotional impression.
Copyediting & Proofreading
Proofreading
Customers often ask us to "check" or proofread texts. Usually, that means they want one of our German or English copyeditors to look over what someone else has written, and only correct errors in grammar, syntax, style or spelling. It's actually not as easy as it sounds. It requires the expertise of someone who has studied and correctly followed the rules for many years.
Copyediting
German or English copyediting is a broader and more complex task than proofreading. While the editor is proofreading the text, they are also looking for ways to improve the language style as well as the overall structure of the text. If you need a specialist for German editing or English editing, steelecht is the place to come.
Improving machine translations
We understand that the quality of machine translations is getting much better, but they still lack that human touch, even in simple factual texts. That's why we offer editing services for machine translations into English or German, whether you use DeepL or Google Translate.
Depending on the type of text, it can make sense to use a machine service to pre-translate your texts in order to save time and costs. But beware! Despite significant progress, machine translations still require professional editing from an experienced copywriter. This copyediting is important if you wish to avoid potentially embarrassing mistakes and unnatural phrasing within your texts. Artificial intelligence still has difficulty dealing with context, tonality or cultural differences, and it will still make certain grammatical and vocabulary errors that only humans can catch. Our copyeditors can add that decisive human touch to your machine translated texts.
Paraphrasing duplicate content
"Duplicate content" is when the exact same text appears within one or multiple domains. If detected, Google will rank duplicate content lower in order to avoid providing its users with search results that contain different sites with the same content. To avoid this penalty on their content, customers will often ask us to paraphrase existing texts, such as by changing the perspective, vocabulary or tonality. Delivering the same content in different words is no problem for the copywriters at steelecht.
Our German and English copyeditors are ready to get started on your project. Whatever your multilingual editing needs, we work with native speakers who are also skilled writers – always.
Multilingual editing – four eyes are better than two
All of steelecht's services – copywriting, copyediting, translation & transcreation – are subjected to the "four-eyes" principle. In short – you get two for the price of one.
Copywriters – writers of any kind – often become so immersed in what they are writing that they begin to read things into their words that may not actually appear on the page. The job of German or English copyeditors is to rectify these common errors, make the text flow smoothly, and ensure that the message sent by the writer is the same message that is received by the reader. Just as good writing requires much rewriting, good German or English copyediting also requires a fresh pair of eyes to go over the (nearly) finished product.
It is important that your message is checked for flaws by German or English copyeditors before you send or publish it. Whether for proofreading or editing, our skills in German or English copyediting and multilingual editing give you the peace of mind that comes when your texts are error-free and easy to understand.
We've got it covered. Our German or English copyeditors in the Berlin and Frankfurt areas are ready to take on your multilingual editing jobs. Let us know what you need, we'll get back to you ASAP.