At steelecht, all of our native English-speaking copywriters are also accomplished writers – and have years of experience providing high-quality English copywriting for a wide range of marketing agencies and corporate customers. From our main office in Offenbach, Germany, we've been creating compelling English copy for global markets since 2005.
SINKING OUR TEETH INTO CARA PRINT 4.0
For Kulzer – a supplier for dentists and dental technicians – our native English-speaking copywriters prepared the "storyline" for the global roll-out of cara Print 4.0, a 3D printer for dental labs. It serves as a detailed marketing text, from which all other materials are developed. Based on the storyline, steelecht develops English copy for videos, brochures, product websites and advertisements – the kind of thorough English copywriting many clients in Germany are looking for.
Whether it's providing creative – not too "adsy" English copy – for a sales brochure or writing compelling texts for an international company's content marketing campaign, we combine flawless English copywriting skills with creativity. This unique combination enables us to deliver crisp, clear messages in a way that also draws readers in and captures them.
Time and again, customers come to us to get away from dry, corporate language and to find a writing style that opens doors for them. We listen to, write and tell your company's story in brochures, ads, website articles, social media posts…you name it! In American English or British English, whatever your market demands. Many customers even opt for "international English", which has its own set of rules, albeit looser and more tuned to non-native English speakers.
Our experienced copywriters are ready to get started on your project. Whatever your English copywriting needs, we have native speakers available – always.
What makes good English copy?
Launching and sustaining a communication strategy is no easy matter. If the audience is international, easy-to-understand English copywriting is a must. Plus, the texts have to factor in a number of contextual variables, such as different pain points, diverse business goals, sufficient reference to the company's products or services, Corporate Identity, regional sensitivities to certain topics – you get the idea.
Even a simple pamphlet or a one-off microsite needs to take many of these same factors into consideration. Basically, you need English copy written by qualified native English-speaking copywriters who aren't afraid to roll up their sleeves and really get to know you and your business.
Obviously, writers who have English as a first language do the best English copywriting. But you need more than that. You need someone who can understand and simplify complicated topics (especially in B2B communication) or synthesize information from diverse sources. You need someone who asks good questions, and who can put themselves in your shoes and intuit the needs behind and beyond the briefing. The result will be texts that not only engage your readers with compelling language, but also convey real meaning. For our work on Hartmann's 200-year Anniversary website, for example, we wrote articles about the people and places shaping the corporation. At steelecht we put a top priority on not just filling a page with words, but creating good English copy that's truly relevant.
To put it in a nutshell, good English copy is written by people who care. At steelecht, our team of native English-speaking copywriters brings together a passion for words with a real interest for your success. We also like to make a point of finding some fresh detail or product attribute to highlight, or an unexpected, spellbinding story to tell. Of course, we also pay close attention to the details: tonality, American English, British English, international English, consistent Corporate Language, not to mention punctuation and good style.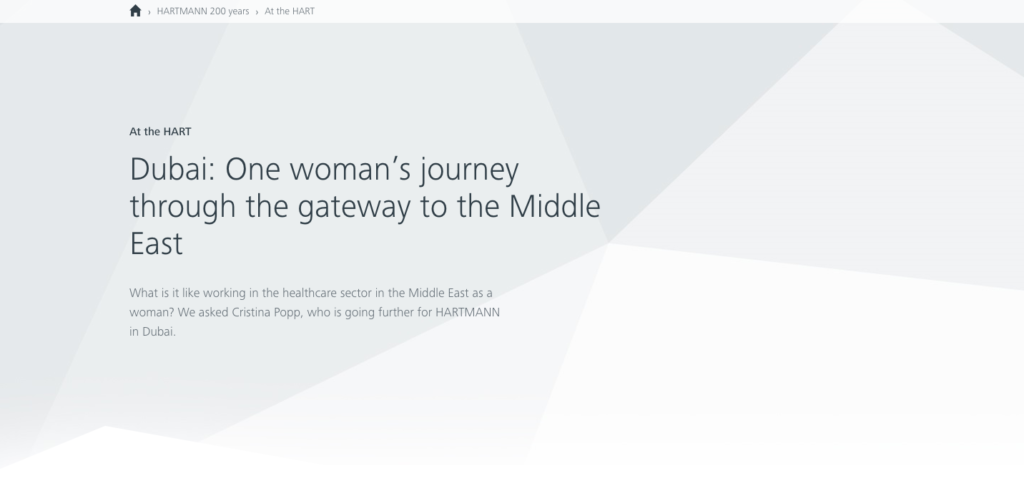 Native English-speaking copywriters based in Germany
It goes without saying, writers who have English as a first language do the best English copywriting. Our native English-speaking copywriters are primarily from North America and the British Isles and most of us have lived in Germany for many years.
Most of all, we are friendly, flexible and fully dedicated to meeting your business communication needs. We routinely write English copy for everything from internal memoranda, job ads and how-to manuals to press releases, articles, websites, blogs and social media posts.
With mother-tongue fluency in English and expertise honed by many years of professional writing experience, we understand the kind of English copywriting you need, however you choose to refer to it:
ADVERTISING COPYWRITING
CORPORATE COPYWRITING
TECHNICAL WRITING
ONLINE CONTENT WRITING
BLOGS / BLOGGING
FEATURES / ARTICLES
MARKETING CONTENT
STORYBOARD WRITING
JOURNALISM
GHOSTWRITING
Our experienced team of native English-speaking copywriters has just the right skill set to match your communication needs.
Try us! You will be pleasantly surprised to see how interesting we can make you sound to your customers. Our native English-speaking copywriters will add value to your message, going beyond simple communication to create the nuance that elevates a sales pitch into a story.
Do you need native English-speaking copywriters who speak German to better understand your unique needs? steelecht has been providing English copy to German clients successfully since 2005.